WHO WE ARE
We are website solution experts providing professional, responsive and reliable Website Design & Development Services in Kenya. We have experienced, dedicated and hardworking team of developers that work together to ensure you attain your goals.
We offer Website design & Development Services, Graphic Design, ICT, Training, Mobile App Development, Domain and Web hosting, Photography & Videography.
At Pruweb Solutions we understand the importance of a good web design services, Search Engine Optimization SEO, Graphic Design and reliable Web Hosting.
Reason why we are the best website designers in Kenya
• Low cost web design
• Professional web designer services
• We are committed to your success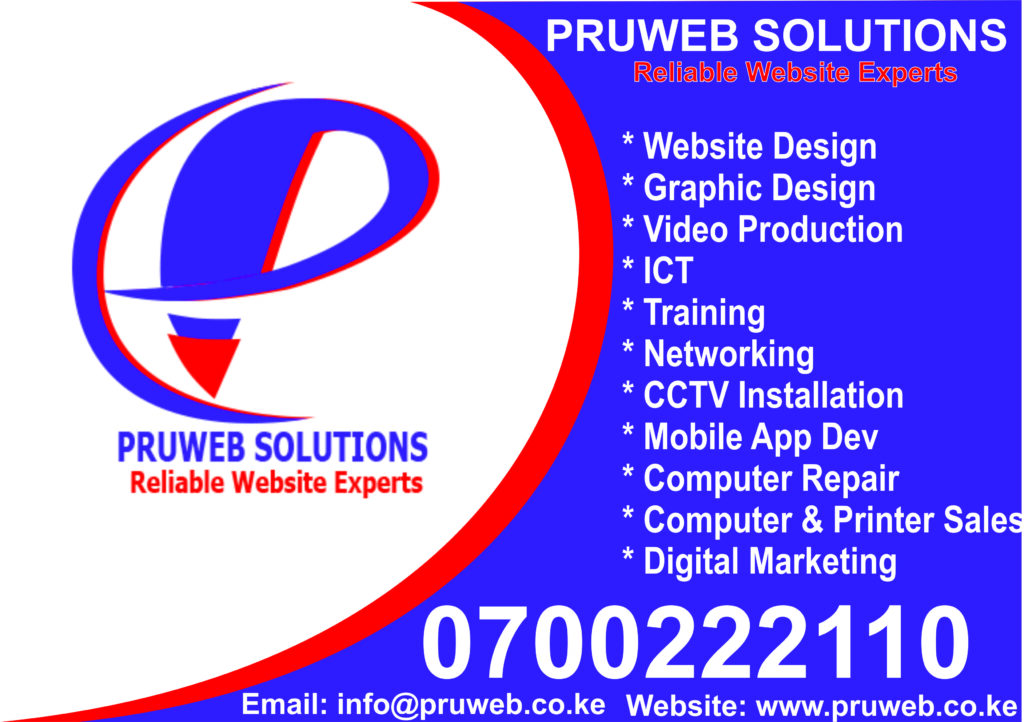 To be the leading website Design & Development company in Kenya
Provide Reliable, Professional and Affordable Services
Commitment
Timely
Accountability
Excellence
Diversity & Team work
Pruweb Solutions is a professional website design company in Kenya, we also offer: Graphic Design, Video/Audio Production, ICT and Training services providing customer-centric, mobile friendly, affordable & creative web development services to businesses that want to grow online.
We ensure all our websites are fast loading, mobile friendly, SEO ready & Easy to edit & update. Talk to us about your project to get started.
Our Graphic Design Services & Clients
FAQ (Frequent Asked Questions)
• How long does it take to do a web design in Kenya?
A web design timeframe varies, minimum website takes 5 Days. On the other hand a more complex corporate web design can take 2 weeks. However, we work hard to ensure we meet clients' timeframe.
• Can I see my website while it's in progress?
YES! Furthermore we encourage our clients to be part of the website development process. During development process, Clients are allowed to give feedback, changes and any other amendments to ensure the best website is developed by our experts to meet your goals and objectives.
• How much do you charge for website design and development ?
Payment varies depending with various factors such as type of website, Style of design, SEO, Database integration, E-commerce functionality, Content Management System and number of web pages.
At Pruweb Solutions we give our clients a 50% DISCOUNT and OFFERS  inclusive of domain registration, SEO, SSL, Multiple emails, Hosting and development. Harry before offer lapse. We value our customers and we are able to negotiable and reach amicable solution whichever website you need be it a blog, news, magazine, newspaper, personal, portfolio, organization, business, institution, school, corporate, ecommerce/online shopping website etc
Why is my website not ranking on Google?
Most developers lack knowledge but here at Pruweb Solutions we ensure all of our website we develop ranks top on Google and on all search engine therefore all of our clients' websites are SEO to improve your business exposure.
• What if I need to make changes on my website?
We are able to edit your site and carry out the necessary changes that you may require. We are able to maintain your website if you need.
• What are customer care Services ?
We operate 24hours and act immediately when called upon of any issue. We give our customers top notch services. Our team to developers work hand in hand with clients and ensure Pruweb Solutions offers the best professional services.

Web Design Services. Business Web Design, Ecommerce web design, Corporate Websites & more. We are a leading Web Development Company in Kenya Offering Quality & Result…
We are a leading Graphic Design Company in Kenya Offering Quality & Professional services Graphic Design Services such as Poster, Brochure, Logo, Banners, ID's, Receipts, invoice, Books, T-Shirt…
We are a leading Video and Audio Production Company in Kenya having a dedicated team of creative and innovative to work on your project to transform ideas into reality…
We are a leading Online Marketing in Kenya, we offer wide range of services such as Social Media Marketing, Website Marketing, Email,  Content Marketing…
As a leading ICT Hub in Kenya, we offer wide range of services such as E-citizen services ie Good conduct, KRA services, Company Registration, Computer Services..
Pruweb Solution is the leading Training College that equip trainees Practical skills. We train Web Design, Graphic Design, Video and Audio Production and ICT. We are the best practical training college in Kenya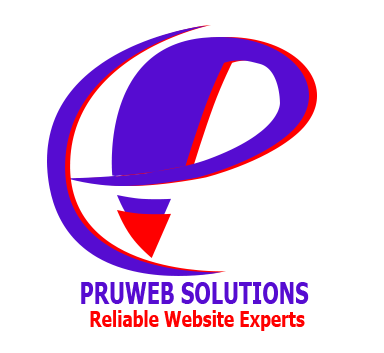 Pruweb Solutions offers professional, responsive and reliable Website Design & Development Services in Kenya. We have experienced, dedicated and hardworking team of developers that work together to ensure you attain your goals.
We offer Website design & Development Services, Graphic Design, Video & Audio Productions, Digital Marketing, ICT and Training Services.